Living Kabbalah Wisdom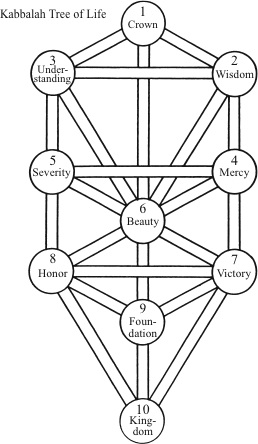 Part 1
Introduction
What follows in this introduction are some of the basic principles of Kabbalah that most directly relate to what we will be exploring together in this series of articles.
For me personally my study of Kabbalah has provided much that Kabbalah seems to promise. It led to a number of powerful, invaluable really, enlightenments involving ultimate life-shifts for the better. It has become my incredibly reliable "road map" for directing my life in line with a vision of my destiny it helped me to receive and for navigating upward through the inner planes of spiritual existence.
Kabbalah has provided me with a clear, systematic understanding of my creative powers and how to harness them and of the wonderful purpose and causes behind what happens to me. I don't share this personal experience with you to suggest that studying Kabbalah will lead you into such monumental breakthroughs, only to introduce you to the deep mystic well of Kabbalah that can nurture one's soul.
While Kabbalah is rooted in Judaism, you can go to Jewish congregations around the world and meet no more than a few members who have even heard of Kabbalah. Among those who have heard of it, little to nothing is known about it. Many view it as empty, antiquated superstition. But among the relatively few who have actually studied it, Kabbalah is revered as the deepest expression of divine truth. Even back in the early Middle Ages, when Kabbalah first emerged from the shadows of a strictly hidden oral tradition, it quickly began attracting the most spiritually and intellectually advanced individuals in Europe.
Foundation Texts
The earliest written record of Kabbalah was possibly penned around the first century. The name of this document is Sephir Yetzirah (Book of Formation). It was written in Hebrew and Aramaic. The following is the final paragraph of this arcane text, offered here to give you a feel for Kabbalah's visionary style and content:
"Abraham bound the spirit of the twenty-two letters upon his tongue and the Tetragrammaton disclosed to him their secrets. God permitted the letters to be immersed in water, He burned them in the fire and imprinted them upon the winds. He distributed them among the seven planets and gave them to the twelve zodiacal signs."
This is pure poetry, jam-packed with solid spiritual information, for those prepared to receive it. The word "Kabbalah" means, incidentally, "to receive".
Click here to proceed to the next part of this article.